Helen McCollum, Licensed Acupuncturist
During her Traditional Chinese Medicine (TCM) training, Helen traveled to China where she studied  Qi Gong, a gentle, rhythmic movement to reduce stress, build stamina, increase vitality, and enhance the immune system.  Qi Gong is an intricate part of healing in the TCM tradition. One of the most exciting parts of her trip included visits to the local Chinese hospitals observing acupuncture treatments; the hospital rooms that were more like wide halls lined with beds on either side, with patients waiting for their daily acupuncture treatments.  These patients would come in daily for their treatment.  During one of these  hospital visits, Helen and a classmate wandered into what looked like an herbal pharmacy with large drawers pulled out with large amounts of herbs lining the drawers and a a large framed shelved wall at the back of the room with brown bags filled and sealed which they  later learned were prescriptions waiting for pickup.  They were immediately ushered out by security as the pharmacy was definitely off-limits to visitors.
Helen continued her studies at the Maryland Institute of Traditional Medicine in Bethesda MD where she graduated and secured her National designation as Professional Acupuncturist.  She began her practice in Old Town, Alexandria, Va., just outside Washington DC. After two years in Old Town, she moved her practice to the Tidewater area to be near her son and family and has been practicing in this area since 2002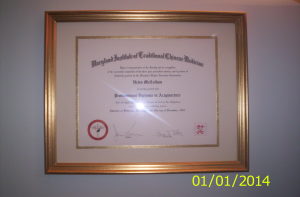 Helen has broadened her alternative medicine training through many other energy healing and nutritional programs.  She is a certified NAET (Nambudripad Allergy Elimination Technique) practitioner where she became proficient in muscle testing. Also versed and proficient in one of the alphabet therapies used by many psychologists, EFT or Emotional Freedom Technique.  She has studied with her 'Favorite Doc on the Planet', Dr. Jacob Tietelbaum of www.endfatigue.com learning to understand and assist in the healing process of Fibromyalgia and Chronic Fatigue.   She trained with Dr. Eric Pearl and completed his basic training of 'Reconnection', a course in energy healing.  She completed Level I of BodyTalk, another energy healing modality.  She recently participated in the   Mid-Atlantic Standard Process Nutritional Resources, Inc. of Essential Nutrition for the "Less-Than-Perfect-Lifestyle" and Common Drugs that Deplete Essential Nutrients. And she is also a graduate of the HADO Instructors School of the well- known and late Dr. Masaru Emoto of Japan.
On-going research on natural healing techniques, healthy lifestyle, food & supplement benefits for optimum health is a way of life for her.  She loves finding new ways to help heal the natural, drug-free way and shares her findings with anyone who asks; Helen often tells her patients, "Don't ask if you don't want to hear the whole thing." She loves to pass on her research finds to (as she puts it), "anyone who will listen."  Teaching her patients and suggesting/offering alternative means to ailments and poor health is not only a way of life but her passion.
Even though acupuncture is her designation and main career path, Helen's interest in natural healing and a healthy lifestyle continues to peak her interest.  She calls on her acupuncture skills when someone falls ill and/or is in pain and then continues with suggestions and information from her extensive research and alternative training for prevention and continual healing for each patient.
Helen feels that we are each ultimately responsible for our own health, and she will continue to research and look for ways to make it easier for all of us to accept this responsibility.